With complaints coming through new and different channels, it has never been more important to streamline your efforts with one solution that allows you to decrease response times via approved information and work within your organization's technology with out-of-the-box integrations to your current technology stack.

LifeSphere Product Complaints Allows you to:
Remain responsive and compliant tracking complaints from multiple channels
Coordinate response management from one comprehensive solution
Streamline processes to enable more efficient, timely, and accurate solutions
Discover the Benefits of LifeSphere Product Complaints for your organization:

Up-To-Date Information

Quickly respond to patient complaints with the latest approved content via an easily accessible database
Streamline Workflows

Eliminate redundant processes and streamline workflows with ease to avoid critical delays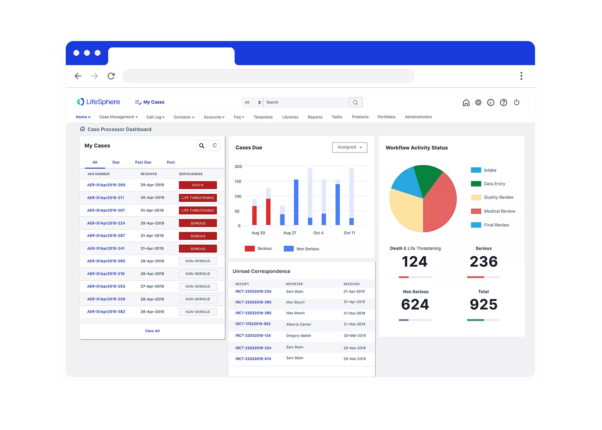 Integrate Easily

Create a flow of information from Medical Information teams to internal Safety and CRM systems including Salesforce for a complete view
Seeing is believing

See LifeSphere Product Complaints in Action
The LifeSphere Product Complaints difference

When it comes to selecting a solution for your Medical Information team, you want the absolute best fit to curate the best relationships with patients and providers. LifeSphere Product Complaints allows you to do that and much more within a single integrated system designed to enable your organization.
Multi-channel management
means you can manage complaints and information via multiple avenues including email, fax, and chat.
Identify areas of focus
via comprehensive investigation and root-cause analysis to signal the right users at the right time.
Automate workflows
to route automatically and distribute complaints across Safety, Medical Information, and Quality teams based on workload
Medical Affairs Customers reap the benefits of selecting a partnership with LifeSphere:

150K+
150K+ Medical Information Inquiries Processed
10 Years
Embedding Over 10 Years of Industry Expertise and Collaboration
Top 20
Proven Solution in Production Globally Including Multiple Top 20 Pharmaceuticals
Resources to help you on your Medical Affairs Journey:

LifeSphere Product Complaints Fact Sheet
Discover the benefits of LifeSphere Medical Affairs Product Complaints in one place as an easy to distribute to stakeholders within your organization.
LifeSphere Medical Information Overview Video
In less than three minutes, explore the benefits of LifeSphere Medical Information and the potential this system has to revolutionize your Medical Affairs teams.
Harnessing Medical Affairs' Strategic Potential
Medical Affairs is starting to take center stage as a strategic part of the drug development lifecycle. Sitting on a plethora of information, these teams have the potential to accelerate new drug discoveries and uses.
Learn more about our collaborative partnership with customers
Explore more products