By enabling organizations to deliver faster on reporting and analytics in a more flexible manner, deeper and more accurate insights are derived from Safety data. Through automation, easy-to-configure reports and dashboards, LifeSphere Reporting and Analytics enables your safety teams to do more.

LifeSphere Reporting and Analytics allows you to:
Gain full visibility into case management immediately and prevent bottlenecks for efficient compliance

Reduce wasted time on manual workflows to enter and collect data, generate reports, and communicate results through automation

Unlock insights within your safety data and share insights throughout the organization
Discover the Benefits of LifeSphere Reporting and Analytics for your organization

Reporting Agility

Automated reporting powered by easy-to-build and configurable tools to generate and distribute reports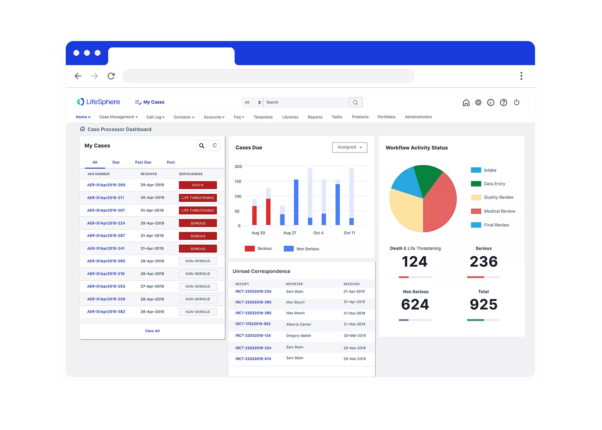 Better Compliance

Clear visibility into case management workflows enables better compliance at a higher quality
Strategic Insights

Clearer views on workflows and data provide better intelligence and insights derived from your internal Safety data
Seeing is believing

See LifeSphere Signal and Risk Management in Action
The LifeSphere Reporting and Analytics Difference.

There are many tools that claim to have the power to streamline and enhance case management workflows and derive better insights from your Safety data. Here's what makes Reporting and Analytics stand out as a true solution for your organization's reporting needs:
Automated workflows
that schedule and distribute reports
Easy-to-configure reports and dashboards
to help you view insights quickly based on what you need
Industry leading artificial intelligence
for better analysis and visualizations
Here is what LifeSphere Safety customers can expect based on real customer results:

Here is what LifeSphere Safety customers can expect based on real customer results. Up to 80% efficiency gains. 30+ years of experience in life sciences industry. 100% compliance for all present and upcoming regulatory standards. See real uses cases from LifeSphere Safety Customers:
AstraZeneca selects ArisGlobal LifeSphere® Signal and Risk Management
Zelgen Selects Industry's First Automated, End-to-End Drug Safety System
EVERSANA and ArisGlobal announce strategic partnership to transform drug safety automation and advance integrated compliance models
Resources for Your Safety Journey

LifeSphere Safety Reporting and Analytics Fact Sheet
Discover the benefits of LifeSphere Reporting and Analytics in one place as an easy to distribute to stakeholders within your organization.
LifeSphere Safety Overview Video
LifeSphere Safety is an end-to-end drug safety platform that helps hundreds of pharmacovigilance teams around the world save time and effort, ensure future-proof compliance, and unlock deep insights.
Unlocking the Strategic Value of Pharmacovigilance
Pharmacovigilance has changed; this white paper expands on the new trajectory of the safety landscape, changing from a cost center to value driver and explores the importance of end-to-end safety.
Learn more about our collaborative partnership with customers
Explore more products