Enabled by pre-validated RPA and NLP-based automation, LifeSphere Safety LitPro reduces literature screening time from days to minutes while ensuring compliance.

With LifeSphere LitPro your organization can:
Save time with literature screening and improve compliance
Remain audit ready with tight processes
Eliminate human error, fatigue, and bias improving quality
Discover the Benefits of LifeSphere LitPro for your organization

Automate Processes

Reduce manual effort and human error through automation to save time and money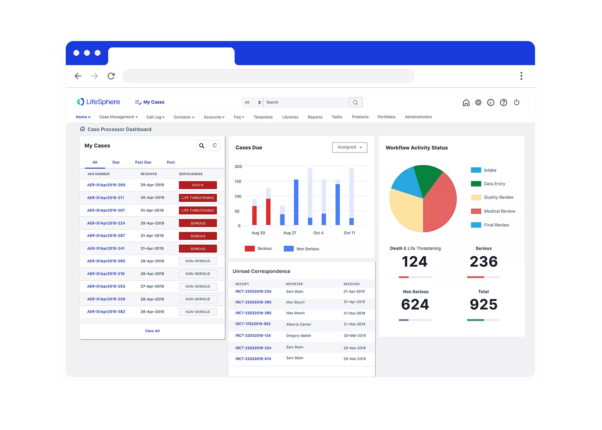 Focus Strategically

With faster literature screening, Safety teams can focus more on strategic goals while still managing a growing number of items to process
Extract Relevancy

With automated screening, relevant cases are submitted to your safety database filtering out what you don't need
Seeing is believing

See LifeSphere LitPro in Action
The LifeSphere LitPro difference

Screening and monitoring literature is only growing for Safety teams, and your organization needs a solution that is intuitive and ready to enable your Safety teams to focus on more strategic efforts. LifeSphere LitPro enables above other solutions by:
The only Providing an end-to-end solution
for literature monitoring compliance
Providing pre-validated and trained
RPA and NLP automation to reduce cost and implementation time
Open architecture
to fit into your existing Safety database and streamline workflows
Ability to refine results
through additional monitoring and improve literature screening based on your organizational needs
Don't Take Our Word for It, Here's the Word on the Street

Here is what LifeSphere Safety customers can expect based on real customer results. Up to 80% efficiency gains. 30+ years of experience in life sciences industry. 100% compliance for all present and upcoming regulatory standards. See real use cases from LifeSphere Safety customers:
Resources for Your Safety Journey

LifeSphere Safety LitPro Fact Sheet
Discover the benefits of LifeSphere LitPro in one place as an easy to distribute to stakeholders within your organization.
LifeSphere Safety Overview Guide
LifeSphere Safety is an end-to-end drug safety platform that helps hundreds of pharmacovigilance teams around the world save time and effort, ensure future-proof compliance, and unlock deep insights.
Unlocking the Strategic Value of Pharmacovigilance
Pharmacovigilance has changed; this white paper expands on the new trajectory of the safety landscape, changing from a cost center to value driver and explores the importance of end-to-end safety. 
Learn more about our collaborative partnership with customers
Explore more products