LifeSphere Safety EV Triage allows you to manage bulk E2B(R3) downloads, screen the information, and transfer them into your organization's Safety database. With intelligent automation, powered by artificial intelligence and machine learning, your organization gains efficiency and greater agility.

LifeSphere EV Triage allows you to:
Save time and improve compliance by eliminating time-consuming manual workflows that cause errors
Meet the EMA requirement of evaluating ICSRs from EduraVigilance
Simplify the management and reconciliation of periodic EVWEB downloads
Speed up processing of relevant and non-relevant safety cases for timely intake
Discover the Benefits of LifeSphere EV Triage for your organization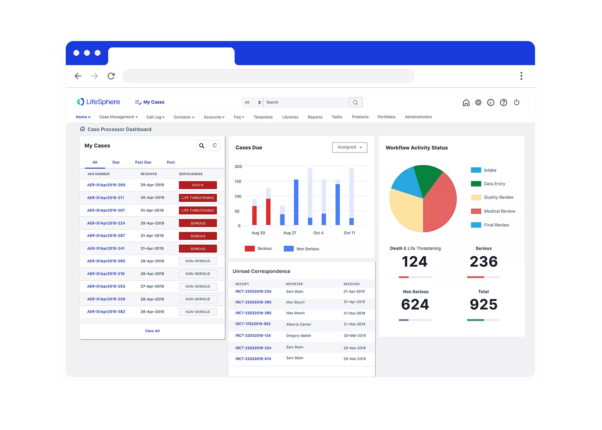 Efficiency Gains

Experience up to an 80% increase in efficiency compared to manual processing
Easy Compliance

Maintain compliance with automated reconciliation reports
Seamless Integration

Easily upgrade your Safety system utilizing LifeSphere's open architecture
Seeing is believing

See LifeSphere EV Triage in Action
The LifeSphere EV Triage difference

Finding the right solution for your organization means digesting large amounts of information to find what works best for your Safety team. Here's why LifeSphere is the right partner for your organization's Safety needs:
Automated, end-to-end solution
for EudraVigilance case intake and triage alongside a full Safety platform
Auto-match AI/ML algorithm
that quickly identifies tags
Internal company dictionary
with local corpus to preserve your Safety database performance
Pre-validated automation
from the market leader in Safety
Don't Take Our Word for It, Hear From Real Life Customers 

Here is what LifeSphere Safety customers can expect based on real customer results. Up to 80% efficiency gains. 30+ years of experience in life sciences industry. 100% compliance for all present and upcoming regulatory standards. See real use cases from LifeSphere Safety customers:
AstraZeneca
AstraZeneca selects ArisGlobal LifeSphere® Signal and Risk Management
Zelgen
Zelgen Selects Industry's First Automated, End-to-End Drug Safety System
EVERSANA
EVERSANA and ArisGlobal announce strategic partnership to transform drug safety automation and advance integrated compliance models
Resources for Your Safety Journey

LifeSphere Safety EV Triage Fact Sheet
Discover the benefits of LifeSphere EV Triage in one place as an easy to distribute to stakeholders within your organization.
LifeSphere Safety Overview Guide
LifeSphere Safety is an end-to-end drug safety platform that helps hundreds of pharmacovigilance teams around the world save time and effort, ensure future-proof compliance, and unlock deep insights.
Delivering on the Promise of Automation in Pharmacovigilance
Automation is a key step in aiding safety case processing and workflows, explore with us how utilizing automation in pharmacovigilance can transform the Life Sciences industry.
Learn more about our collaborative partnership with customers
Explore more products