An automated end-to-end Drug Safety system, LifeSphere MultiVigilance saves time, ensures compliance, and aligns global teams.

With LifeSphere MultiVigilance your organization can:
Increase the speed of specialized treatments to market efficiently and safely

Achieve scalable, efficient compliance through automation of Safety workflows

Collaborate globally via a secure cloud-based architecture with open integration
Discover the Benefits of LifeSphere MultiVigilance for your organization

Future-proof Compliance

Continuous innovation through a cloud solution provides up-to-date compliance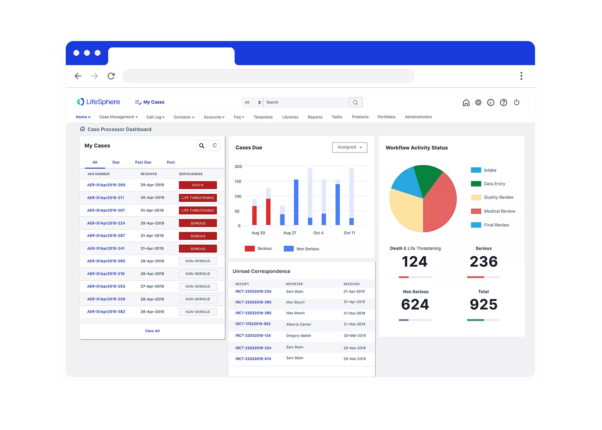 Global Unification

Consolidate into a single, unified Safety database the allows teams to work globally for case management
Digitally Transform

Rapidly modernize your safety operations with out-of-the-box automation and AI
Seeing is believing

See LifeSphere MultiVigilance in Action
The LifeSphere MultiVigilance difference

Finding the best solution for your organization's Safety case management means selecting the platform that does the most for your team. That means you want the best solution that makes your team agile and ready for the ever-increasing safety case management. Here's why LifeSphere MultiVigilance is different:
The only solution
With end-to-end, production ready case management automation utilizing AI to empower your Safety team
Unmatched workflow efficiencies
Via automation from case intake to submissions and reporting
Built for the industry by the industry
With up-to-date compliance with regulatory requirements
Don't Take Our Word for It, Here's the Word on the Street

Here is what LifeSphere Safety customers can expect based on real customer results. Up to 80% efficiency gains. 30+ years of experience in life sciences industry. 100% compliance for all present and upcoming regulatory standards. There are more reasons to choose LifeSphere MultiVigilance. Industry leaders have noticed our solution within the industry including:
Frost & Sullivan
LifeSphere solutions in Life Sciences are recognized for their enablement of the industry as a cloud-enabled, data-first customer solution in Life Sciences.
United State Food and Drug Administration (FDA)
The release of FAERS II demonstrates the versatility of LifeSphere solutions and how they can enable platforms even at a vast scale.
Resources for Your Safety Journey

LifeSphere Safety Fact Sheet
Discover the benefits of LifeSphere Safety solutions in one place as an easy to distribute to stakeholders within your organization.
LifeSphere Safety Overview Guide
LifeSphere Safety is an end-to-end drug safety platform that helps hundreds of pharmacovigilance teams around the world save time and effort, ensure future-proof compliance, and unlock deep insights.
Unlocking the Strategic Value of Pharmacovigilance
Pharmacovigilance has changed; this white paper expands on the new trajectory of the safety landscape, changing from a cost center to value driver and explores the importance of end-to-end safety
Learn more about our collaborative partnership with customers
Explore more products