With out of the box, production ready automation, LifeSphere Intake and Triage delivers immediate time-savings increasing efficiencies and allowing your organization to focus on high-value items.

LifeSphere Intake and Triage allows you to:
Address increasing case volume

Improve efficiencies by up to 90% using intelligent automation

Upgrade your safety database with ability to handle structured and unstructured case sources
Discover the Benefits of LifeSphere Intake and Triage for your organization

Automation On-Demand

Automate manual processes and save time through case validity, triage, and automatic coding
Quality Review

View source data and documents to review for quality, balancing your workflow and ensuring accuracy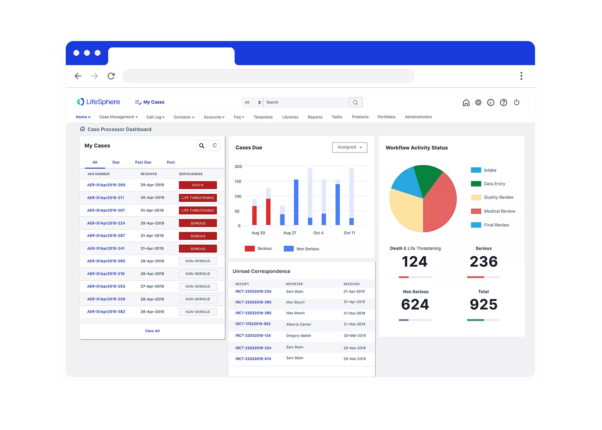 Scalable Design

Handle all cases regardless of the volume, LifeSphere Intake and Triage grows with you
Seeing is believing

See LifeSphere Intake and Triage in Action
The LifeSphere Intake and Triage difference

We know you have options when it comes to Safety technology, but LifeSphere solutions empower your organization to do more and streamline your case intake process:
Only industry case intake solution
with production-ready automation saving you time and money
Pre-validated intelligent automation
including artificial intelligence, machine learning, natural language processing and more
Open architecture for less disruption
to your technology by integrating with existing safety databases
Don't Take Our Word for It, Here's the Word on the Street

Here is what LifeSphere Safety customers can expect based on real customer results. Up to 80% efficiency gains. 30+ years of experience in life sciences industry. 100% compliance for all present and upcoming regulatory standards. See real use cases from LifeSphere Safety customers:
Two Top 25 Global Pharma Companies Adopt LifeSphere® Intake and Triage to Automate Adverse Event Case Processing
Zelgen Selects Industry's First Automated, End-to-End Drug Safety System
EVERSANA and ArisGlobal announce strategic partnership to transform drug safety automation and advance integrated compliance models
Resources for Your Safety Journey

LifeSphere Safety Intake and Triage Fact Sheet
Discover the benefits of LifeSphere Intake and Triage in one place as an easy to distribute to stakeholders within your organization.
LifeSphere Safety Overview Guide
LifeSphere Safety is an end-to-end drug safety platform that helps hundreds of pharmacovigilance teams around the world save time and effort, ensure future-proof compliance, and unlock deep insights.
An Inflection Point: Making Safety Strategic with an AI-Powered Data Fabric
Join us as we explore how and why Safety is a strategic center in the drug development lifecycle and how automation through artificial intelligence can accelerate this transformation.
Learn more about our collaborative partnership with customers
Explore more products