Utilizing secure mobile and web applications, healthcare providers, field teams, and patients can digitally submit and track inquiries, report adverse events, and record product complaints from anywhere, anytime.

LifeSphere Reporter allows your organization to:
Increase real-time engagement with stakeholders

Track everything in a single digital portal

Easily share information that is up-to-date and accurate
Discover the Benefits of LifeSphere Reporter for your organization

Enable Teams

Enable multiple teams to aid patients and interface with stakeholders via a simple tool
Remain Compliant

Secure channels and up-to-date, approved content provide compliance throughout the software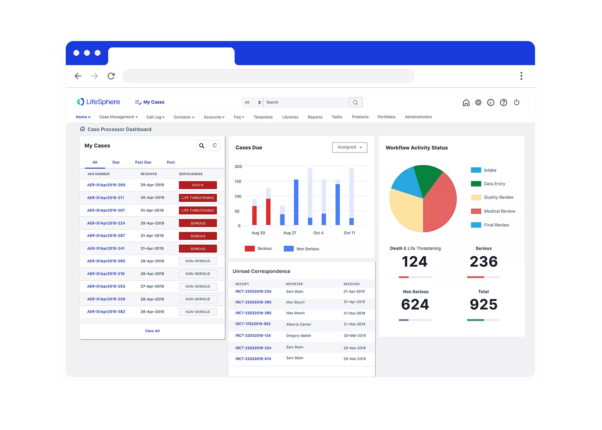 Increase Efficiencies

Collect and process adverse events and product complaints with ease via one tool
Seeing is believing

See LifeSphere Reporter in Action
The LifeSphere Reporter difference

Investing in the software that enables your organization to do more is essential to ensuring your business reaches it potential. LifeSphere Reporter enables your organization to increase the agility of Medical Information and Safety teams and do more with the information they receive and respond to inquiries faster. Here's what makes Lifesphere Reporter an asset for your organization:
Enable global teams
with global submission support for Medical Information and Safety teams via mobile and web-based applications
Support in multiple languages
Streamlined content search,
offline capabilities, and seamless integration to simplify your reporting needs
Medical Affairs Customers reap the benefits of selecting a partnership with LifeSphere:

150K+
150K+ Medical Information Inquiries Processed
10 Years
Embedding Over 10 Years of Industry Expertise and Collaboration
Top 20
Proven Solution in Production Globally Including Multiple Top 20 Pharmaceuticals
Real Customers, Real-World Use Cases

Top 20 Global Pharma goes live with ArisGlobal's LifeSphere MultiVigilance 10
Resources to Help You on Your Medical Affairs Journey

LifeSphere Reporter Fact Sheet
Discover the benefits of LifeSphere Medical Affairs Reporter in one place as an easy to distribute to stakeholders within your organization
LifeSphere Medical Information Overview Video
In less than three minutes, explore the benefits of LifeSphere Medical Information and the potential this system has to revolutionize your Medical Affairs teams.
Benefits of Integrating Your Medical Affairs and Safety Workflows
Medical Affairs is a strategic partner in the drug development lifecycle but becomes even more powerful when combined with your organization's Safety team. Learn why these teams together can transform the benefits you receive from information within your organization.
Learn more about our collaborative partnership with customers
Explore more products