Enable your organization

Bring breakthrough treatments to market faster with a modern, end-to-end cloud platform. Deliver results with software that enhances efficiency, shortens timelines, and ensures global regulatory compliance.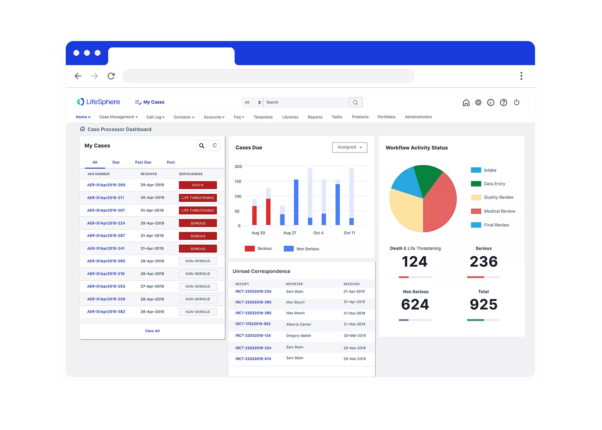 Elevate your organization's technology to enable more collaboration and better outcomes.

Grow your organization with a scalable platform that evolves to meet your changing needs.
Maintain control of all your data with an in-house, efficient system.
Maximize efficiency with industry standards and robust APIs that ensure seamless integrations.
LifeSphere Solutions for Small to Medium Pharma

Modernize your pharmacovigilance functions with the Safety platform trusted by over 300 life science firms
Keep your Safety team lean with the only end-to-end, production-ready, automated case management solution.
Maximize partner flexibility and oversight with a single global platform with central dashboards and reports.
Future-proof your compliance with a platform that scales to any case volume and global operation.
Create smooth, intuitive workflows and shrink the tech stack with one platform.
Expedite time to market through easier startup and decentralized trial site monitoring.
Easily configure reports and dashboards by leveraging automation and integrated data flows.
Manage complex protocols and diverse partnerships with modern tools designed for the life sciences.
Confidently record safety events and stay up to date with global compliance.
Ensure compliance with continually updated cloud software trusted by more than 30 leading life science organizations.
Deploy intelligent automation to reduce workload and free resources for more cognition-intensive tasks.
Quickly find and verify data from various portfolios in centralized data repository.
Provide critical medical information to all stakeholders from a single source of truth.
Capture and log adverse event data from multiple sources, eliminating silos across safety, medical information, and CRM systems.
Enable stronger decision-making through configurable reports and dashboards based on actionable intelligence.
EVERSANA and ArisGlobal Announce Strategic Partnership to Transform Drug Safety Automation and Advance Integrated Compliance Models
EVERSANA will leverage ArisGlobal's end to end LifeSphere Safety platform to strengthen next generation commercialization services
LifeSphere Electronic Trial Master File (eTMF) System Brings New Efficiency to Contract Research Organizations (CROs)
CROs like Total Clinical Trial Management (TCTM) have adopted LifeSphere eTMF as part of its effort to transform the relationship between CROs and clinical sites.
The LifeSphere difference

80%
Of Top 50 Biopharmas
80% of the top 50 biopharma companies are our clients
30%
Time Savings
30% reduction in time to complete clinical site monitoring reports
30%
Cost Savings
30% immediate cost savings potential via our advanced automation capabilities
100%
Compliance
100% compliance with all present and upcoming regulatory standards
Learn more about our collaborative partnership with customers.