Distinguish yourself from competitors

Deliver services that help your clients reduce costs, compress timelines, and navigate ever changing regulatory hurdles.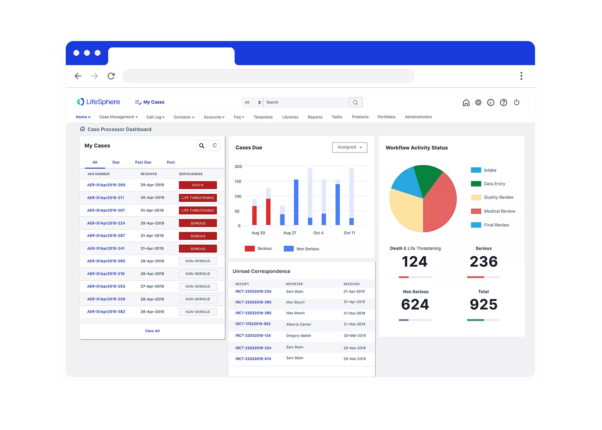 Grow your business with a unified cloud platform for clinical through commercialization

Expand your services to attract more business and enable strategic partnerships with clients.
Rapidly deploy AI-enabled automation to be more competitive.
Ensure consistent best practices and compliance that promote repeat business.
LifeSphere Solutions for CROs & Service Providers

Deliver cost-efficient pharmacovigilance services with production-ready intelligent automation.
Adapt to client-specific requirements with flexible, no-code configuration of workflows and reports.
Meet the demands of decentralized, multinational trials with always up-to-date global compliance.
Seamlessly transition to post-market drug surveillance with a scalable cloud platform.
Make the most of your therapeutic expertise with the right set of tools to handle complex research.
Interoperate with systems run by Sponsors and Sites while ensuring compliant access for inspectors.
Easily configure forms, dashboards and reports to support individual sponsor needs.
Accelerate trials on the Unified Clinical Platform that offers easy integrations with third-party apps.
Transform regulatory performance with innovative, purpose-built technology.
Share data & content between cross-functional teams and with third-party partners to strengthen confidence in authoritative data sources.
Save considerable time and effort managing a global product portfolio.
Achieve easy compliance to help you achieve breakthroughs, faster.
Deliver critical medical information to all stakeholders from a centralized source through a complete cloud solution.
Effectively scale to keep up with increasing work volume by driving efficiency with process automation.
Quickly capture and exchange adverse event and product complaint data, eliminating siloes across safety, medical information, and CRM systems.
EVERSANA and ArisGlobal explain how to navigate the transition to post-approval pharmacovigilance
Choosing the right partner for end-to-end commercial success. Partnering with a contract research organization (CRO) provider during clinical development fills an important role in the product life cycle, providing pharmaceutical companies with pharmacovigilance expertise and support during clinical trials.
How Leading South Korean Biopharma are Modernizing PV Operations
Watch our webinar on-demand for an insightful discussion with LSK to learn how leading South Korean biopharma firms are navigating evolving regulatory requirements and seizing the opportunity provided by advancements in end-to-end safety automation.  
LifeSphere Electronic Trial Master File (eTMF) System Brings New Efficiency to Contract Research Organizations (CROs)
CROs like Total Clinical Trial Management (TCTM) have adopted LifeSphere eTMF as part of its effort to transform the relationship between CROs and clinical sites.
Learn About the ArisGlobal CRO Partner Program Benefits
See how you can drive efficiency, keep everyone on the same page, and accelerate research and development for you and your sponsors.
The LifeSphere difference

80%
Of Top 50 Biopharmas
80% of the top 50 biopharma companies are our clients
30%
Time Savings
30% reduction in time to complete clinical site monitoring reports
30%
Cost Savings
30% immediate cost savings potential via our advanced automation capabilities
100%
Compliance
100% compliance with all present and upcoming regulatory standards
Learn more about our collaborative partnership with customers.